ex:amine:
software for asset and credit risk assessment
Keep track of all asset risks on one web platform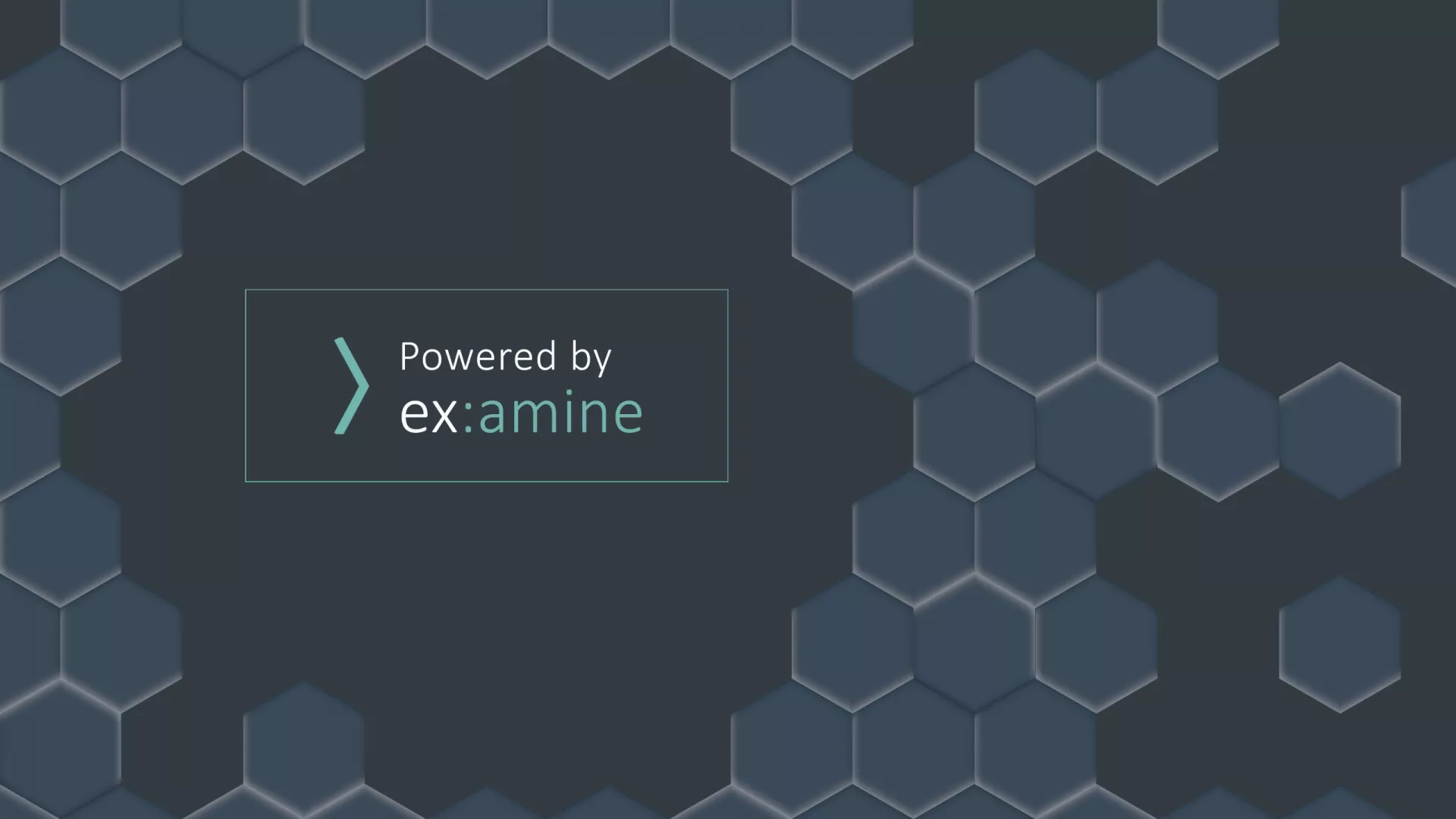 Floor check, stock check, inventory check, loan collateral check, inventory cart check: The process of keeping financed assets in view and under control has many names - and only requires one software:
EXCON ex:amine.
The software solution, initially known to our regular customers as Risk Platform, adapts flexibly to the needs of our customers. With the help of individual sets of rules, stock can be checked based on the customer's own criteria. ex:amine can therefore be seamlessly integrated into existing processes and supplement them with useful automatisms that save time and money and simplify monitoring and reporting. ex:amine is flanked by two apps for use in our physical audits (EXCON Field app) and for dealer self-checks for qualified dealers.
Overview of the components

EXCON ex:amine
Our web-based Risk Platform: Your new online tool for floor check management. Here you orchestrate the various audit methods included in our flexible floor check portfolio. You decide whether your dealers are audited by our experienced EXCON Field Force, whether qualified dealers perform a tamper-proof self-audit with subsequent result verification themselves, or whether you combine both systems - tailored to your needs. Put together your audit solution using:
EXCON Floorcheck with experienced sales representatives
Dealer self-check with our native app ex:amine
Connected car data audits with options like geofencing

You define the rules according to which the audits are carried out - whether by our experts on site or by the dealer - in our ex:amine platform. The scheduling of the checks is, of course, just as much a part of the platform as the integrated controlling, the evaluation of the results, and the final reporting.
Based on your set of rules, the platform notifies you in case of complaints, supports you in tracking, and collects all results in a well-organized dashboard.

EXCON ex:ecute
Our proprietary app for dealer self-checks. After scheduling the audits in our web platform ex:amine and defining the criteria to be checked, your dealer receives a personalized access code via email for the native EXCON app ex:ecute, available for iOS and Android devices.  
In the app, the user is guided through the audit - with a time limit if desired. In the process, he or she is provided with a user-friendly overview of the assets to be audited. When the audit is complete, the dealer signs the result digitally and sends it from the app to the ex:ecute web platform.

EXCON Field App
Our professional auditors are equipped with the EXCON Field App during their floor checks. The app, like the self-check app for dealers, is designed to communicate directly with the ex:amine web platform where you schedule your dealer checks. This digital integration has many advantages:
Faster on-site processes through fully digital processes.
Immediate, transparent insight into the results in our web platform
Proprietary technology: Independent of third-party providers, our solution is always up to date
Fail-safe and encrypted
Of course, all of our systems have state-of-the-art security features. For example, the self-check app ex:amine does not allow users to upload existing photos from the smartphone gallery, but always relies on live photos taken with the smartphone camera. The source code of the smartphone app is of course encrypted. In addition, the data collected in the course of dealer self-checks is not stored locally, but transmitted live to the risk platform ex:amine. Local storage is only used in the event of a connection failure - in which case the data is encrypted in accordance with the latest standards. Our data centres are of course also certified according to ISO 27001. You can find an overview of our certifications here.

This is just a small excerpt from our catalogue of fraud prevention measures. Our apps also have many other technical measures and procedures to keep your data safe.
Numerous added values
We develop both our planning and organisation platform ex:amine and our apps ourselves. This results in many advantages for our clients:
Feature scope: the software is not a prototype, but has an extensive set of outstanding functions. Nevertheless, we see ourselves as technological tailors, not as manufacturers of mass-produced goods: if our software does not yet meet your specific requirements, we will be happy to develop it further with you.
Regular updates: There is never a standstill in our development department. Our software is already in use with many clients and is constantly being improved with the feedback of our loyal customers. In addition, we always use the most secure, up-to-date technologies for the operation of our systems, which we regularly renew or replace.
Direct communication: Thanks to the direct contact with our in-house software development, the communication channels are short. Even in agile projects with many, fast iterations, transparent, clear communication between our developers and the product managers at our clients is always in the foreground.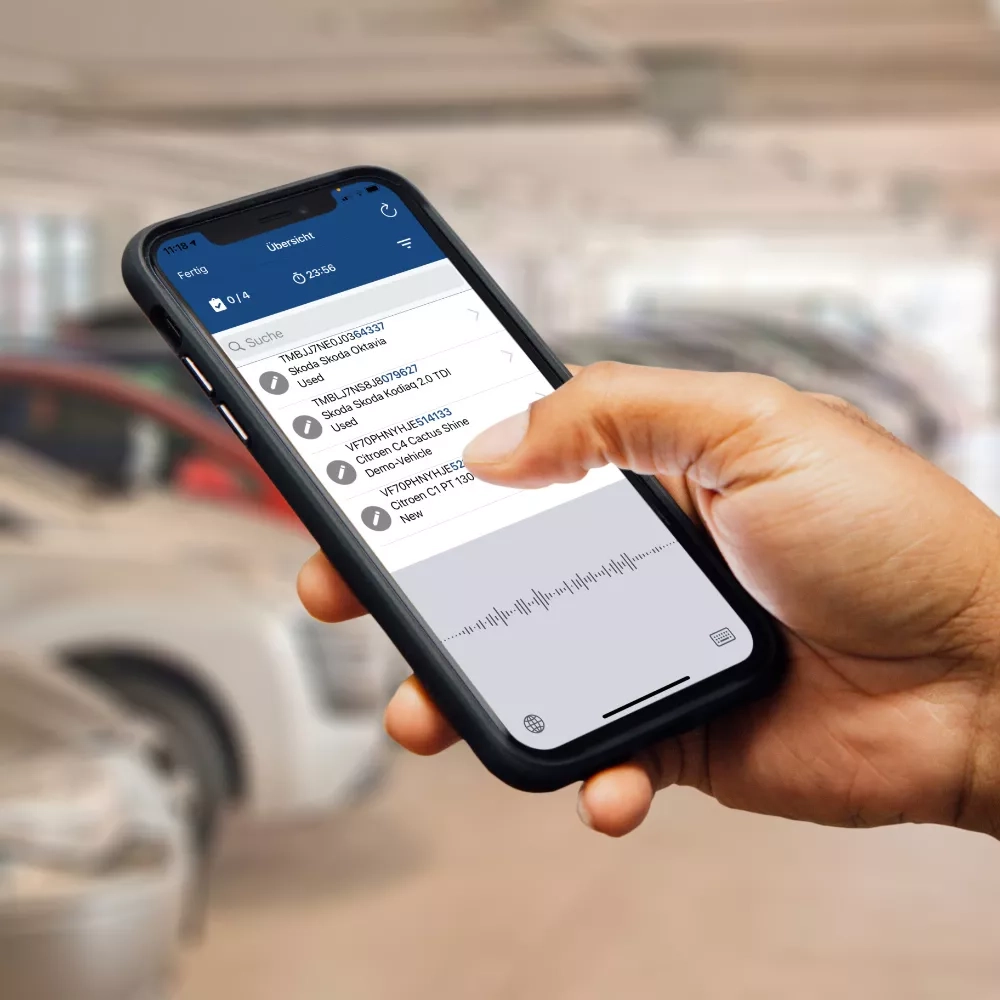 User-friendly: In the EXCON Field app, a voice-based vehicle search is part of the clever basic equipment.