ESG software - ex:plore
Get your ESG score, meet standards, improve rating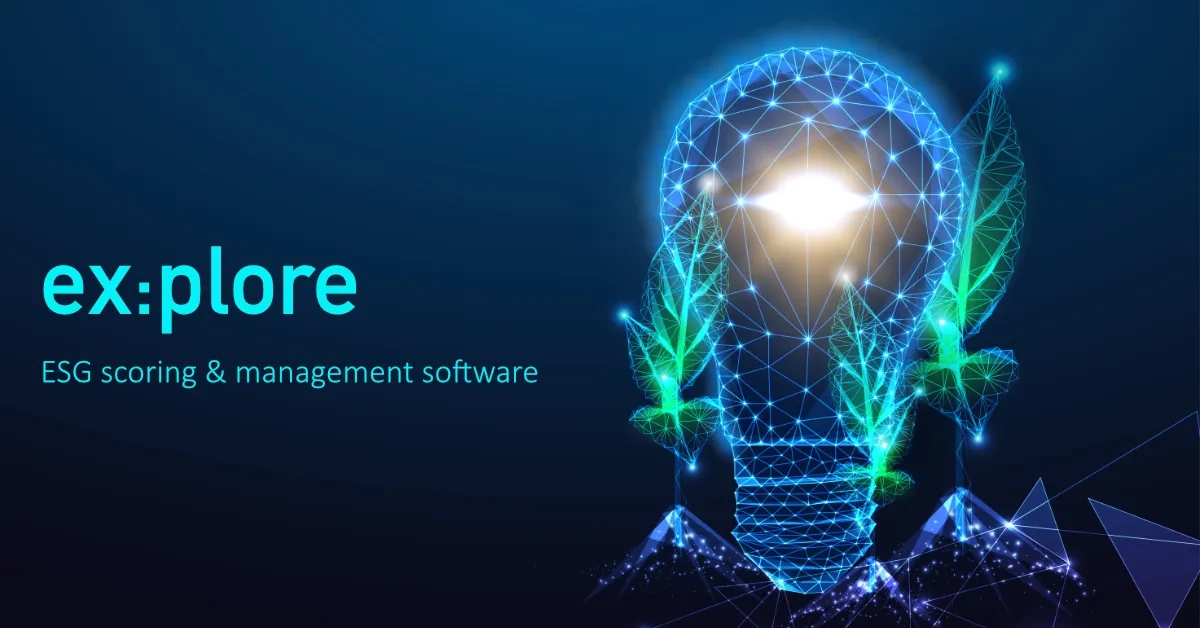 As early as the 2024 financial year, the European Commission wants to set binding ESG criteria that companies will then have to report on publicly. This will create a highly complex legal framework for which many companies are not prepared. Moreover, many investors and financiers already demand information about a company's ESG performance before they make a financing or purchasing decision. As a result, determining one's own ESG score has now become a top priority for many entrepreneurs.
Entrepreneurs and their financiers - from shareholders and partners to capital equipment leasing partners - face the challenge of identifying and documenting a transparent rating for environmental, social and governance issues in order to make informed business decisions.
Numerous questions arise for those responsible:
Which ESG standards will my company have to meet?
How do I find out whether my company meets the standards - and to what extent?
How am I supposed to check my company against the extensive catalogues of criteria in all three areas - environment, social and governance - without losing track of the results?
Where do I get these sets of rules and how do I keep them permanently up to date?
How do I identify urgent need for action to improve my company's ESG score?
Which service providers can support me in the operational implementation?
Who validates this result so that it can be relied upon by financiers, business partners and customers?
With our software ex:plore we have created the answer these questions.
Why prepare for the new ESG sustainability reporting requirements?
With the EU compliance regulations and guidelines for a sustainable economy, companies are being held much more accountable in the areas of sustainability and social responsibility. The focus is on reporting requirements, which are to disclose sustainability information along the entire value chain. This will make disclosure requirements relating to ESG criteria applicable to all SMEs.
This still sounds like a dream of the future - but it is not that simple. Already now, a multitude of different standards are establishing themselves in different industries - from ESG-compliant real estate, to ESG-certified financial products, to general ESG standards for the assessment of companies of different sizes. In this way, many companies already have to comply with various principles - but they lack affordable and user-friendly software to simplify this work enormously.
One software for all ESG standards
This is where the great advantage of our software platform comes into play: with ex:plore, you can check, evaluate and improve your company according to all these standards. In addition to our own ESG rulebook, which you can use to determine your binding ESG score and have it validated by EXCON and certified by TÜV Süd if you wish, our software can map any set of standards and rules.
Are you participating in a tender that requires your own ESG standards? No problem with ex:plore.
You want to prove your sustainability to lenders or investors? No problem with ex:plore
You want to create your own ESG criteria catalogue with which you can review and improve your company at many different locations down to department level? No problem with ex:plore.
There is a variety of ESG standards, criteria and non-statutory requirements - many more to come. With ex:plore, you check and comply with all official, internationally recognised standards (such as the future EU ESG guidelines or the EU Taxonomy Regulation) as well as your own individual sets of rules. With our own EXCON ESG criteria catalogue, we also offer you a rule base that covers many recognised standards. We are guided by, among others:
United Nations Global Compact
EU Green Deals
German Sustainability Code
Greenhouse Gas Protocol
ex:plore impresses with its high user-friendliness, smooth scalability and clear processes. Small and medium-sized enterprises with one or a few locations can use the cloud-based web platform just as much as large corporations with complex structures. The user interface is self-explanatory, the processes can be flexibly adapted depending on the company structure - without much setup effort on site. A laptop, tablet or even smartphone is enough to start improving the ESG rating.
To do this, those responsible fill out an ESG questionnaire tailored to their use case. The scope and level of detail can be freely adapted according to the wishes of the client or its shareholders and stakeholders. Many levels are possible, from an initial sustainability inventory to a complete ESG assessment including validation of the results and certification by our partner TÜV Süd.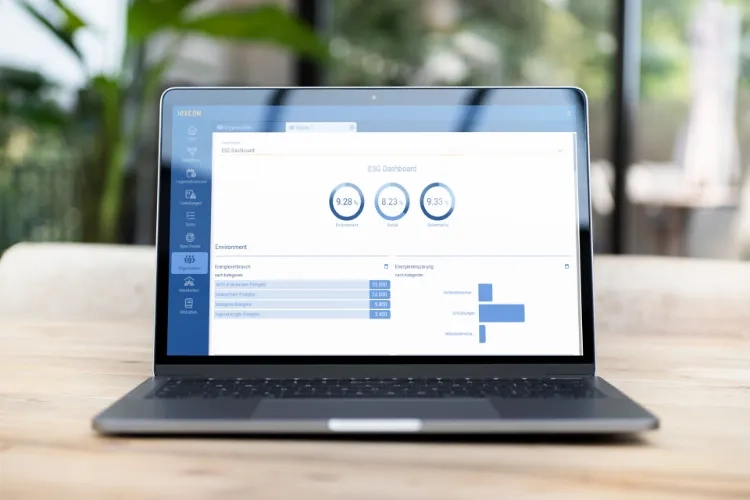 The dashboard clearly lists all important key figures in the areas of environment, social and governance.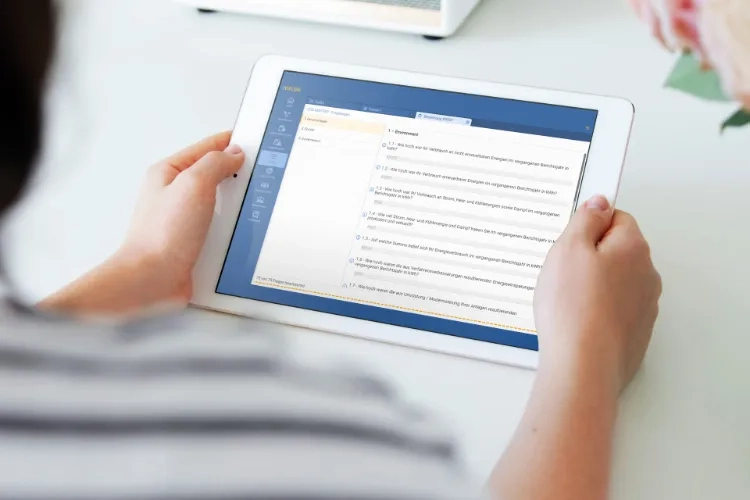 The questionnaire can be answered at any time on a computer, tablet or smartphone.
After answering the questions and uploading the corresponding receipts and documents, the user receives an initial result at the push of a button based on the respective ESG standard or questionnaire applied. In parallel, the audit result is validated by corresponding experts on request in order to be reliable for financiers, clients, employees and partners.
Together with the transparent overview of the company's performance in the areas of environment, social and governance, the user receives an action plan with options for improving his rating. Weaknesses in the company are revealed here, and concrete options for action help with implementation.
The EXCON provider platform is particularly helpful in this regard, as it directly connects the necessary service providers for the respective improvement proposals on request.
The EXCON Provider Platform: Your new service provider network
The EXCON Provider Platform, a comprehensive partner network with ESG-related solution providers, makes it particularly easy for you to improve your ESG rating. We work with experts from various industries who offer elementary services for meeting sustainability criteria as well as social and corporate governance requirements. So if your ESG audit with our ex:plore software identifies opportunities for improvement in the area of waste disposal, for example, the provider platform will put you in touch with the right waste disposal specialist from our hand-picked partner network.
Once you have determined the current ESG rating of your company in ex:plore and received an action plan with concrete suggestions for improvement from the software, the continuous improvement process begins, for which ex:plore provides numerous features. After all, a one-off survey of the status quo is rarely enough. Wherever standards change, requirements increase and rules become stricter, the development of one's own ESG score must be permanently and transparently monitored and improved according to the requirements of regulators, shareholders and stakeholders.
That is why we have implemented the continuous improvement process in our software. With the integrated complaint management, weak points and potential for improvement are not only identified, they can be directly assigned to a responsible employee for processing and provided with deadlines. Here, too, proof of rectification can be configured as a mandatory task by uploading corresponding documents and evidence. If it is a matter of factors that cannot be corrected by the company itself, the EXCON provider platform provides a network of corresponding service providers.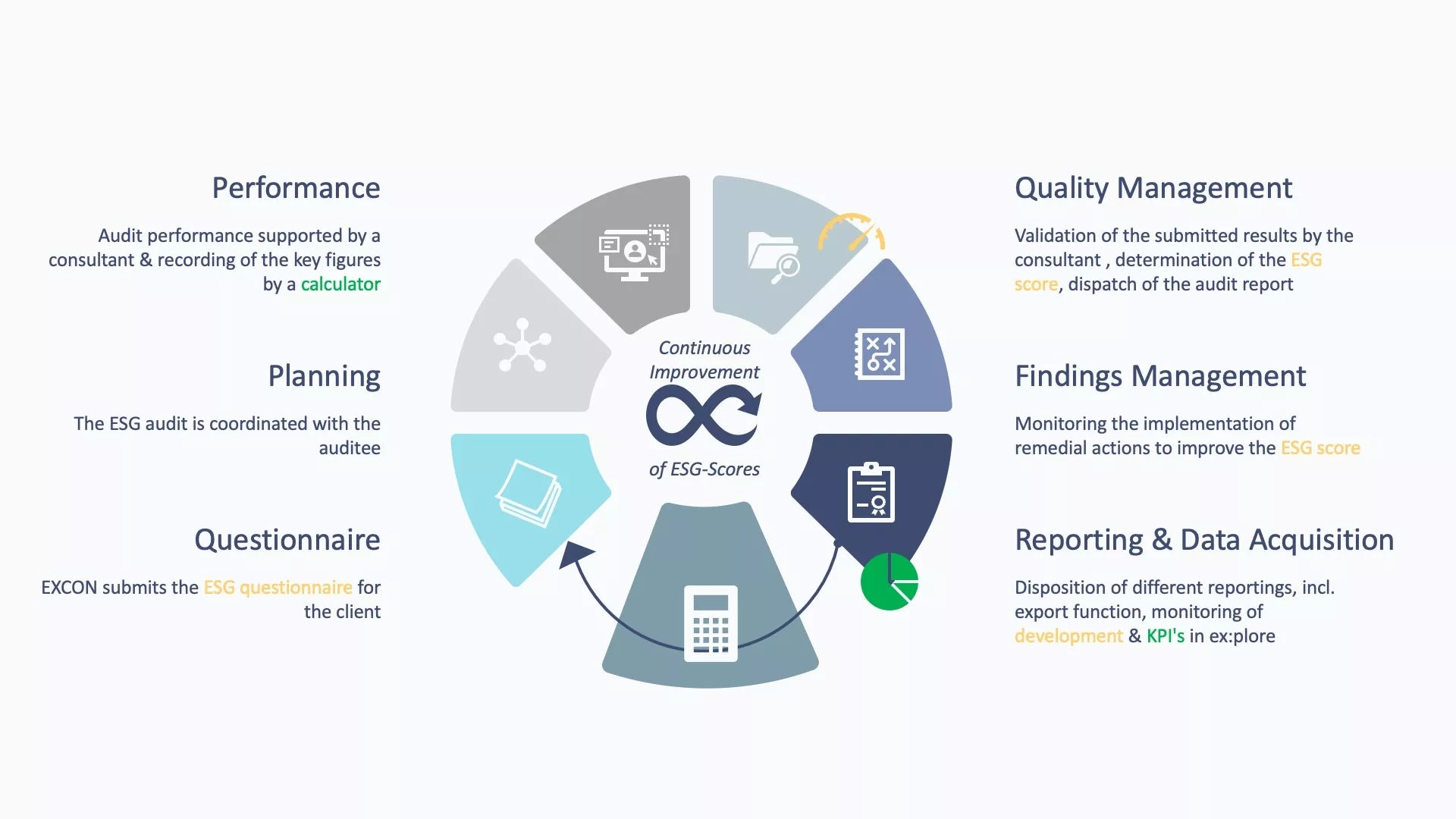 With ex:plore, you can easily meet your reporting and disclosure obligations without neglecting your core competencies.
Thanks to the high degree of automation and digitalisation, you can make all compliance and sustainability-relevant reporting easier, faster and more cost-effective and shine in front of partners and stakeholders.
What is ESG (Environment, Social, Governance)?
Not only customers and investors, but also public authorities are increasingly obliging companies to record and publish their sustainability information. The topics of environment, social and governance (ESG) are at the centre of all required disclosure obligations.
The disclosure and reporting obligations cover the following focal points:
Environment
In the area of environment, all aspects are to be covered that are directly or indirectly related to the protection of the environment. The focus here is, for example, on the reduction of greenhouse gas emissions and environmental pollution, the protection of natural resources and the promotion of sustainable strategies for climate protection.
Examples are:
• Protection of biodiversity and ecosystems
• Protection of water & marine resources
• Adaptation to climate change
• Development of a circular economy
• Minimising environmental pollution
• Promoting climate protection
Social
The social area focuses on corporate social responsibility issues, some of which are already well known, such as respect for human rights along the supply chain, but also fair and safe working conditions and inclusion.
Examples are:
• Respect for human rights, incl. prohibition of slavery and child labour
• Compliance with safe working conditions, incl. health protection, safety and social dialogue
• Upholding equal opportunities, equal rights for all genders, equal pay and inclusion
Governance
The third area of governance focuses on sustainable corporate management. Internal decision-making and analysis processes as well as the generally applicable values and principles should also take sustainability into account.
Examples are:
• Alignment of corporate ethics with regard to anti-corruption strategies and money laundering prevention
• Strict control of political engagement and avoidance of lobbying
• Creating an internal control and risk management system
• Transparent with regard to the role and remuneration of the administrative management, the supervisory bodies as well as the business partners