Environment Social Governance: Map, maintain and monitor ESG structures
Well prepared for current and future ESG requirements: With our ex:plore platform, you can check and monitor whether your value chain meets all criteria in a resource-efficient way.
Why should you prepare for the new ESG sustainability reporting requirements?
With the EU Compliance Regulations and Directives for Sustainable Economy, a highly complex and completely new legal framework regarding sustainability and social responsibility has been defined. This new European legal framework affects not only the financial sector but also the non-financial sector at both company and product level.
The focus is on reporting requirements, which are supposed to disclose sustainability information along the entire supply chain. This means that disclosure obligations with regard to ESG criteria will become mandatory for all medium-sized companies.
What is ESG (Environment, Social, Governance)?
Not only consumers and investors, but also authorities are increasingly obliging companies to record and publish their sustainability information. The topics of environment, social and governance (ESG) are at the centre of all required disclosure obligations.
The disclosure and reporting obligations cover the following focal points:
Environment
In the Environment sector, all aspects are to be covered that are directly or indirectly related to the protection of the environment. The focus here is, for example, on the reduction of greenhouse gas emissions and environmental pollution, the protection of natural resources and the promotion of sustainable strategies for climate protection.
Examples include:
• protection of biodiversity and ecosystems
• protection of water & marine resources
• adaptation to climate change
• building a circular economy
• minimising environmental pollution
• promotion of climate protection
Social
The social area focuses on corporate social responsibility issues, some of which are already well known, on compliance with human rights along the supply chain, but also on fair and safe working conditions and inclusion.
Examples include:
• respect for human rights, including the prohibition of slavery and child labour
• compliance with safe working conditions, including health protection, safety and social dialogue
• equal opportunities, equal rights for all genders, equal wages and inclusion
Governance
The third area Governance focuses on sustainable corporate management. Internal decision-making and analysis processes as well as the generally applicable values and principles should also take sustainability into account.
Examples include:
• alignment of corporate ethics with regard to anti-corruption strategies and prevention of money laundering
• strict control of political involvement and avoidance of lobbying
• establishment of an internal control and risk management system
• transparency with regard to the role and remuneration of administrative management, supervisory bodies and business partners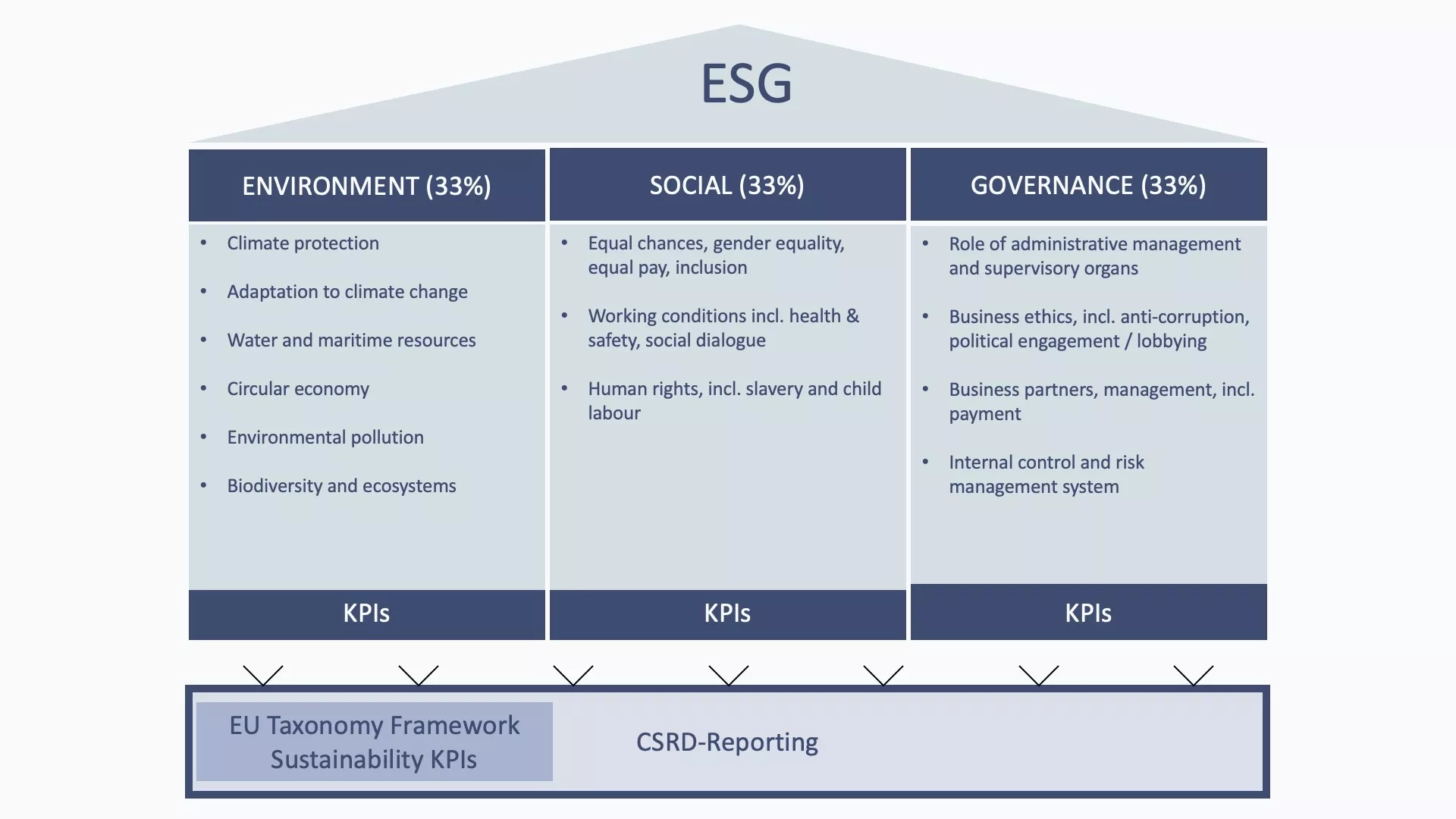 What advantage do you have with EXCON and ex:plore?
Since 2017, EXCON has successfully developed an ESG platform with which information can be collected, evaluated and tracked in a validatable and transparent manner. With our concept of the continuous improvement process, our audit and compliance solution ex:plore makes it easy to plan and carry out ESG audits and to track and eliminate findings.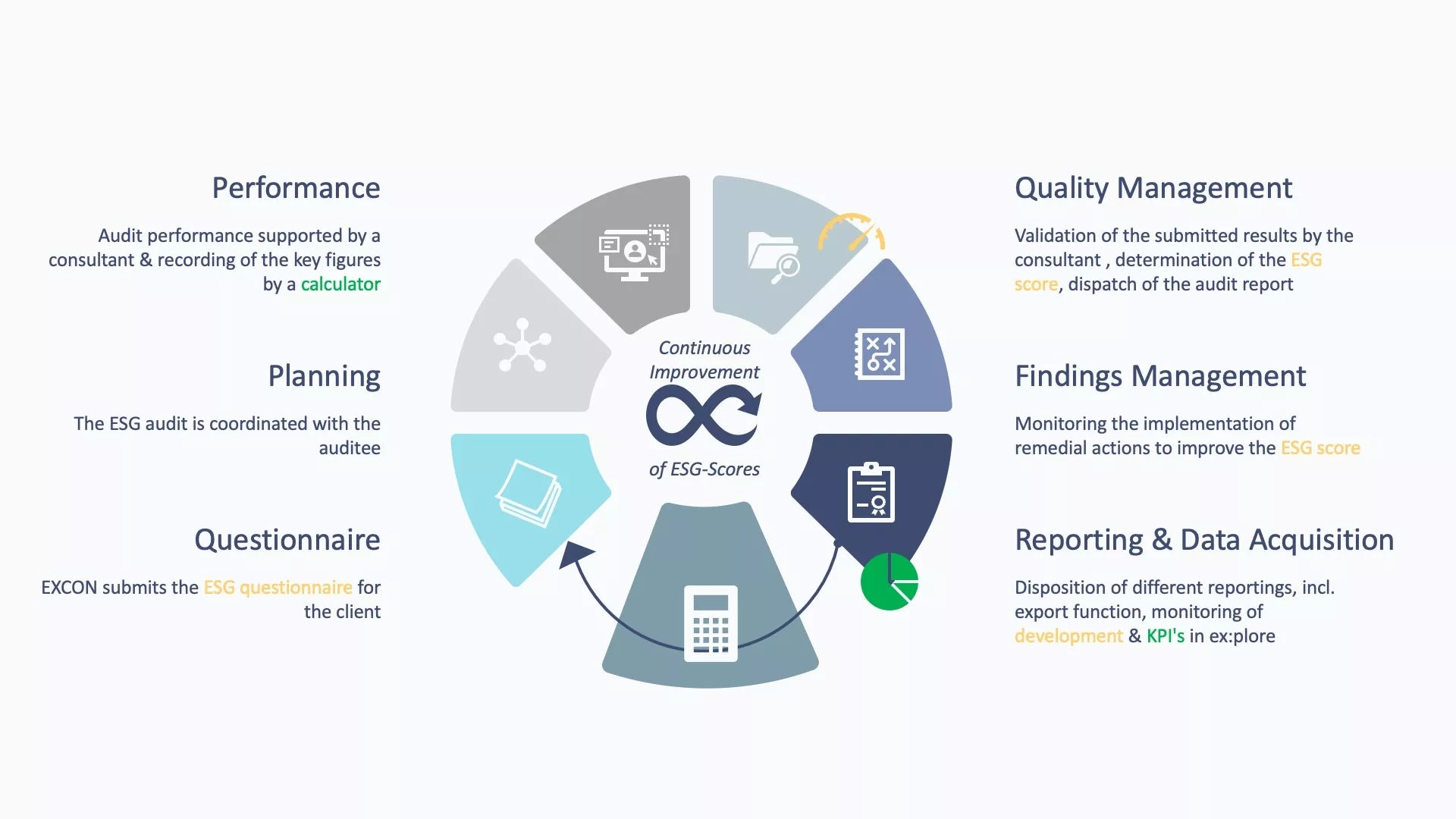 With ex:plore, you can easily comply with your reporting and disclosure obligations, even across locations, without neglecting your core competencies.
Due to the high degree of automation and digitalisation, you can make all compliance and sustainability-relevant reporting easier, faster and more cost-effective and thus shine in front of partners and stakeholders.
Use our form to contact our ESG specialists easily and without obligation.